The countless possibilities presented by a mobile app became easy to comprehend during the pandemic. Apps such as the ones for grocery delivery, for instance, made it possible for customers to get quick delivery of their household items.
This made the online grocery app market flourish presenting it with countless business opportunities. Thanks to apps like Getir in particular which we will discuss in this article, the potential for the market has gone up tremendously.
The app albeit its launch in 2015 has over these years made its name by making different services easy to access for customers. The first being meals, the other being groceries and the last being water, as well. The platform is also renowned for its support in making these deliveries available within a couple of minutes.
These factors contribute to the app's popularity growing among budding entrepreneurs guiding them to build an app on similar lines. If you are among one of them, congratulations, you are at the right place.
We cover the reasons that contribute to the app's popularity. Simultaneously we also ensure you get perspective on these aspects.
About Getir App
How does the app work?
How does it make money?
Estimated cost to build Getir app
How to develop a Getir-like app
Introducing You to Getir App
The Turkish on demand app for grocery and meal deliveries had its launch in 2015. Thereafter, through its different offerings, one prime among them being the ultrafast delivery services, it ensures that customers can get deliveries of these items followed by water at an accelerated pace.
The on demand delivery app solution is known for possessing the most unique sets of features, followed by having extremely simple operations. The latter is particularly responsible for the platform becoming so popular in the first place.
How Does Grocery Delivery App like Getir Work?
Grocery delivery app like Getir has extremely easy operations. We have highlighted the functionality in the pointers below.
Customer taps on the service they wish to avail of and adds their location details.
They get presented with a list of stores/restaurants nearby and they receive the flexibility to choose one.
Thereafter they can tap on items/meals they want and gets them added to the cart
The customer makes payment and gets the order accepted.
Order is picked up, and gets going towards customers' location.
Customers can track the order until delivery is done and then after the same provide rating and review.
Revenue Model for Getir App
The Getir app incorporates the following revenue models to make money and earn considerable profits through deliveries.
Sale of groceries and food at a marked-up price.
Delivery charges to customers above what they pay for the order.
Payment process fees for card payments.
Commissions charged to stores on orders bought and sold.
Estimated Cost to Build Getir App
Courtesy of the on-demand delivery app solution possessing these revenue-generating models it becomes extremely easy for it to make considerable profits. Alternatively, due to having easy operations, it has enticed the attention of entrepreneurs and encouraged them to develop a grocery app clone on similar lines. Here, you need to remember that some aspects become important to take into consideration during the calculation. This includes-
Design
Features
Functionality
With these in check, the cost to build Getir app will be between $20,000 to $30,000+ based on the features and design strategy incorporated.
How to Develop Grocery Delivery App like Getir?
We have highlighted above the estimated cost to build Getir app highlighting the areas that can affect this. Let us now gain perspective into the steps that are to be followed to develop an app on similar lines.
1. Investigate Customer Issues and Competitors
Research on your customers, and try to gain perspective into the areas of concern they have. This is something that will aid you to create a platform that makes them easy to address. This follows by gaining perspective on the activities of your competitors.
In other words, you should study in detail about the solution they have created, the features that are included within, etc. With the perspective you gain into these, you are ready to enter the second stage of development.
2. Get App Design Strategy In Place
To allow your app remain interactive and gain more engagement, it is recommended to create an app design strategy.
Here you need to work towards making the platform as user-friendly as possible. Include buttons, texts, etc so that interaction can take place smoothly.
3. Include Unique Components
As the app has three main segments namely the customer, the delivery driver, and the merchant, it is recommended these three have the most unique sets of features within.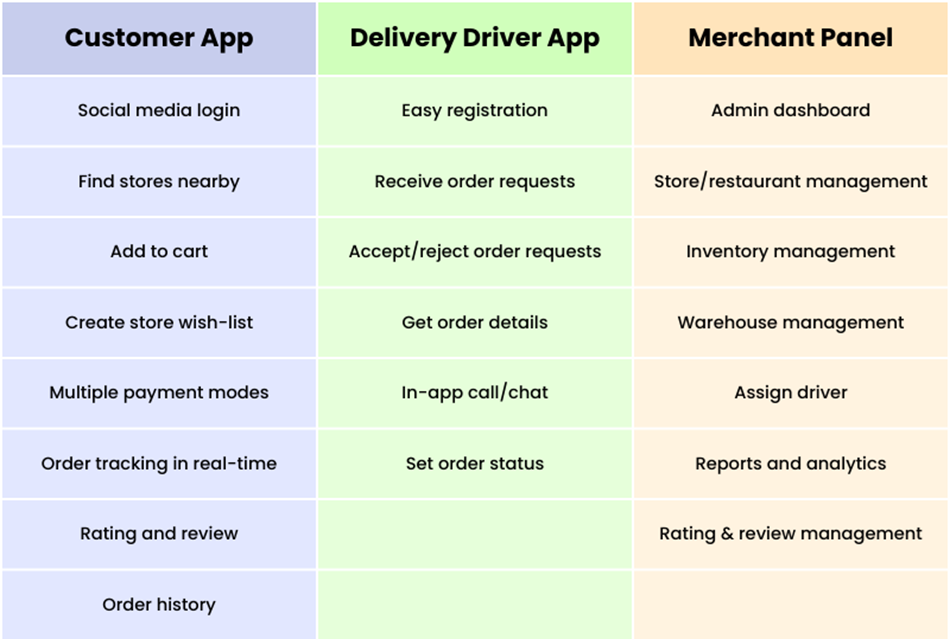 (Alt Text: Getir App Features)
4. Build the App and Test It
Once you have shortlisted the features we now enter the app buildup stage. Herein you use technologies to develop the front and the back end of the app. Thereafter, get the API integration done. This is to ensure the platform works flawlessly. Test the app to keep it free of bugs and other respective malfunctions.
Release a beta version of your platform; suggesting users to install it and share their reviews. Getting perspective of this, make changes in your app, and get the final release done. Thereafter through analytic tools analyze the level of user engagement.
5. Market Your App
When you build grocery delivery app like Getir is performing app marketing. Being a crucial stage, it will allow your platform to get the maximum number of installs and users in a reasonably short time.
Steps like app store optimization, followed by link creation are some methods you can employ to make this possible.
6. Get Getir Clone App
During the process of developing an on demand grocery delivery app solution, that is the grocery delivery app like Getir, it is recommended that you make use of a solution that is ready-made and ready-to-launch. This will allow your business to get visibility in a short time. It will alternatively also allow you to address your business and customer needs as they come in the future.
Keep these tips in mind though before you get the solution-
Examine its open-source nature
Take note of the support it will provide you in making customization
Observe the level of ownership you will receive on the solution
When you get clarity across all these aspects and are sure that the solution has all these qualities, you should next connect with an on-demand grocery app development company. Assess their experience in developing the readymade grocery app source code. Go through the organization's portfolio and client reviews. Study the apps they have created in the past. Once you receive a green signal that they are competent in handling your project, partner with them and share your requirements to observe your app idea accomplishing fruition.
Ending Words
Getir has enticed the Turkish audience. This is through helping them access meal and grocery deliveries in one place. It has particularly attracted the attention of entrepreneurs and encouraged them to build an app on similar lines. If you plan to accomplish something similar, partner with a dedicated team of professionals from an on-demand grocery app development company now. Start making profits like never before via deliveries you make and build a prominent place in the grocery app market.